March 02, 2023
If you're in need of proof that, despite all its problems, science has the potential to literally save the world, this week's top story is for you. It details the results from a fresh batch of papers analyzing data from NASA's asteroid-nudging DART mission, which last year slammed into and shifted the orbit of a space rock known as Dimorphos. That such a relatively small and inexpensive probe could so effectively alter an asteroid's celestial motion suggests that if—when—future hazardous objects are found on potential collision courses with Earth, similar techniques could be used to ensure they don't strike our planet. Elsewhere this week, we have stories on the latest anomalous galaxies found in the early universe, the need for nuclear arms control, a poetic paean to Europa, and more. Enjoy!
| | |
| --- | --- |
| | Lee Billings, Senior Editor, Space & Physics |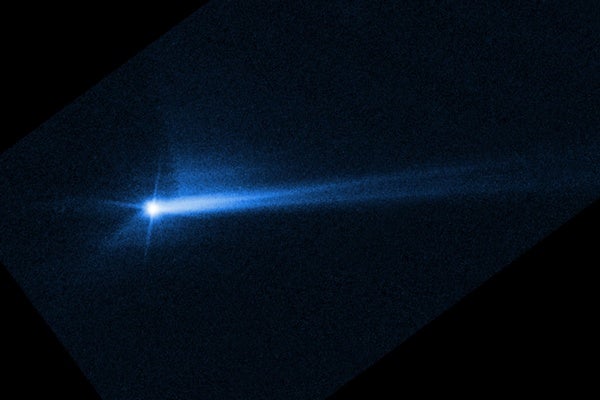 Politics
We Must Prevent a New Nuclear Arms Race
Smart U.S. leadership and international pressure on Russia can prevent an unconstrained global nuclear arms race
By Daryl G. Kimball,Frank von Hippel
Astronomy
Science in meter and verse
FROM THE ARCHIVE


Astronomers Grapple with JWST's Discovery of Early Galaxies
Researchers are convinced the James Webb Space Telescope has glimpsed an unexpected population of galaxies in the early universe. Now they're trying to decide what this means for our understanding of the cosmos
By Jonathan O'Callaghan | December 2022
LATEST ISSUES


Questions?   Comments?
Download the Scientific American App